Kano Crabs
The sweet, full legs and rich crab miso in the shell are delectable.
Seiko Crabs
(Female queen crabs)
Available until the end of December
The popping mouth feel of the outer eggs and the Richness of the inner eggs with the crab miso are superb.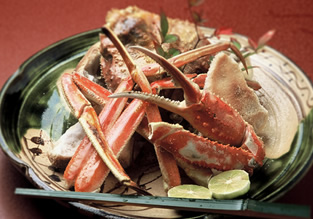 Delicious, sweet crab sashimi.
Boiled crab, in which the chef's seasoning brings out the umami of the crab.
Crab miso, with an irresistible rich and soft umami flavor.
Grilled crab, irresistible with the sound of the coal, aroma of the ingredients, fragrance, sweetness, and umami.
The famous deep fried shells, stuffed with crab meat.
Crab and rice and zosui, full of concentrated crab flavor.
Take the opportunity to try the Matsuya crab course for a number of crab dishes and variations on the flavor of crab.
Enjoy the sound of the waves,
the aroma of the salt, and the view of the Sea of Japan from your room while you taste the flavors of winter in the north.
Superfine crab course. A course of crab dishes.
(Price)
Traditional Crab Dishes
(Price)
※Please inquire for dates and pricing.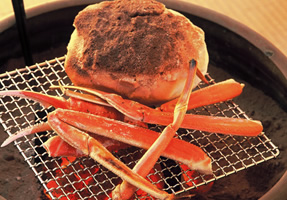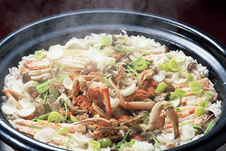 Currently accepting orders for shipments of Kano crabs.
Ingredients grown in the northern regions amid
the raging waves of the Sea of Japan.
The dishes made using winter ingredients from the Sea of Japan, such as the tea-house course dishes and hot pot dishes that include winter yellowtail, local cod, angelfish, and puffer fish from Kinkai are superb. Take the opportunity to enjoy the season with mountain and seafood ingredients.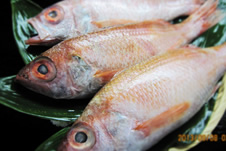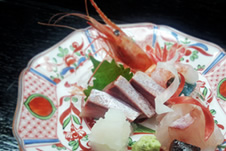 Daytime Kaiseki Meal
8,000 yen 〜
(Tax and service charge not included)
Evening Kaiseki Meal
10,000 yen 〜
(Tax and service charge not included)
We offer other dishes in addition to crab. Please inquire for details.
We accept inquiries and reservations by phone only.